15th, March 2018 – Art Below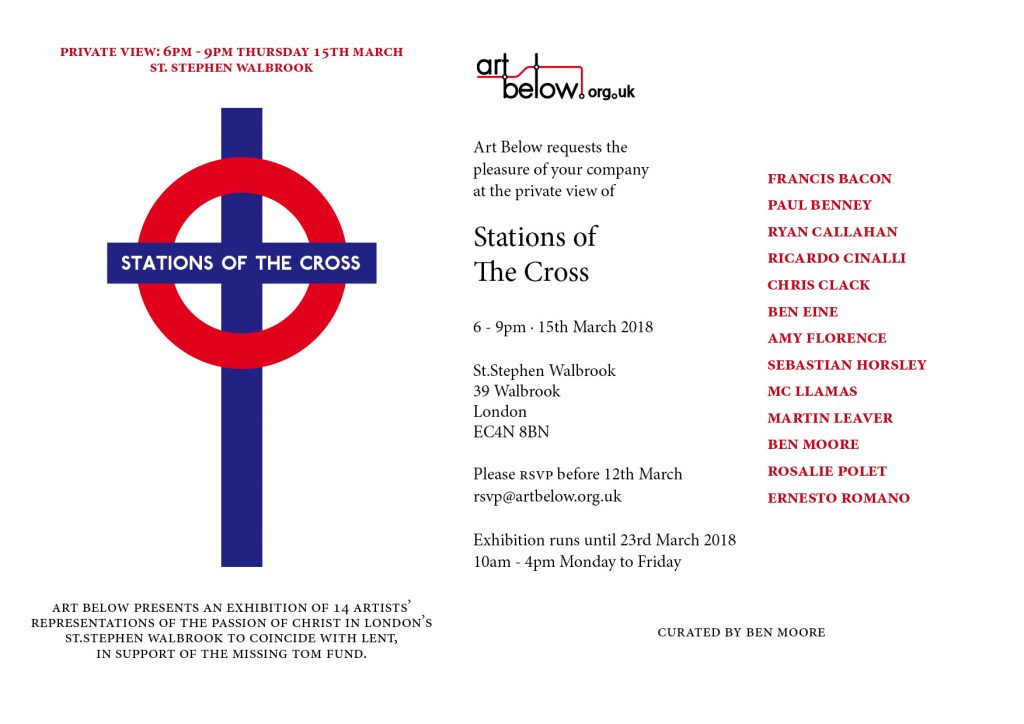 Private View Thursday 15th March (6pm – 9pm)  
St.Stephen Walbrook, 39 Walbrook, London, EC4N 8BN. 
Exhibition runs until 23rd March 2018,  10am – 4pm Monday to Friday
A series of crucifixion themed works by 14 artists including Francis Bacon, Sebastian Horsley, Ricardo Cinalli and Paul Benney are to be unveiled at London's St.Stephen Walbrook church on Thursday 15th March at the Private View of Art Below's 'Stations of the Cross' Exhibition.
The exhibition includes a sculpture of a life size white imperial stormtrooper from the original 1977 Star Wars film hung on a wooden cross titled 'Crucified Stormtrooper' by Ryan Callanan (RYCA)
St.Walbrook, the historic dome shaped church designed by Christopher Wren in 1672 based in the heart of the City of London will host Art Below's 'Stations of the Cross' until 23rd March and is the third crucifixion themed exhibition to be curated by Ben Moore in support of the Missing Tom Fund set up to find Tom Moore (brother of Ben Moore) who has been missing since 2003.
Curator Ben Moore says 'I welcome artwork that raises debate and ultimately creates more awareness towards finding my brother Tom.' On the subject of 'Crucified Stormtrooper' Moore says 'I think its symbolic that in Star Wars 'The Force Awakens' (2015) we saw a stormtrooper escape from the dark side to come and support the rebellion and the 'crucified stormtrooper' plays into the notion of forgiveness.  It also resonates with the official religion of Jedi which now has 200,000 people signed up!'
Art Below's  2015 'Stations of the Cross' Exhibition at London's St.Marylebone Parish Church included a life-size body cast of Pete Doherty nailed to a cross entitled 'For Pete's Sake' and attracted media attention worldwide.
The First Stations of the Cross Exhibition took place at St.Marylebone Paris Church – 6th March to 17th April 2014 and was showcased on billboard space across the London Underground and included work by Antony Micallef, Mat Collishaw, Polly Morgan, Paul Fryer Alison Jackson and Bran Symondson.
FRANCIS BACON UNTITLED 100 x 70 cm pencil and collage on paper 1977 -1992
RYAN CALLANAN (RYCA) 'Crucified Stormtrooper' 8foot x 4foot
ERNESTO ROMANO 'Crowned 1' 70 x 50 cm Giclee print with 24K gold leaf 2018
PAUL BENNEY 'Dying Slave' 320 x 208 cm Oil on Canvas. 2015
RICARDO CINALLI 'The Last Supper with diamonds II' 1,80 m x 2,30 m pastel on tissue paper layers with Diamonds collage 2012